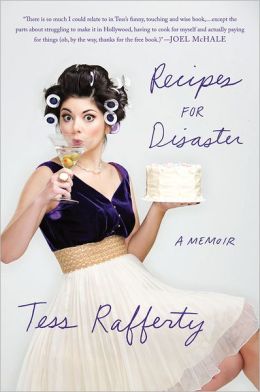 Awesomely hilarious.
The book that really swept me off my feet was Recipes for Disaster by Tess Rafferty.
Now I know what you're thinking, who is Tess Rafferty, right? Yeah, I said the same thing. In fact, when I woke this book on
Goodreads
in a giveaway, I didn't even remember entering into the contest. I can't say how happy I am that I did win it. Tess was once a writer for the show, The Soup, and it really shows through in her writing.
I've read food memoirs (the cover says memoir but don't let it fool you, it's a food memoir) in the past,
Toast
sticks out in my mind whenever anyone says food memoir, but this one was different. Tess goes about food in a way that is not only honest and true, but hilarious. She always seemed to have a positive way to look at things even if they were unbelievably terrible. She focuses on having dinner parties and makes them seem horribly stressful and extremely fun at the same time. She also gives advice on how to cook for picky eaters (picky by choice and picky by food allergies) that will come in handy to anyone who cooks for someone with food allergies. For example she is allergic to most fruits and vegetables, something she talks about a lot during the memoir.
Her tips, and recipes, that showed up at the end of each chapter were hilarious and totally doable, many of which I plan on trying out (all with alternatives for food allergies). The entire time I was reading this memoir I felt more as if I were talking to a friend rather than reading a book. Her positive attitude and ability to make extremely stressful things seems fun have made me want to start having dinner parties of my own! I recommend this book to anyone that likes to laugh, cook, or drink (there is a lot of drinking involved).